Record and Track Your Company Expenses On One Click
Track and save resources from spending on unwanted expenses. Sign up with Munim and manage your resources efficiently.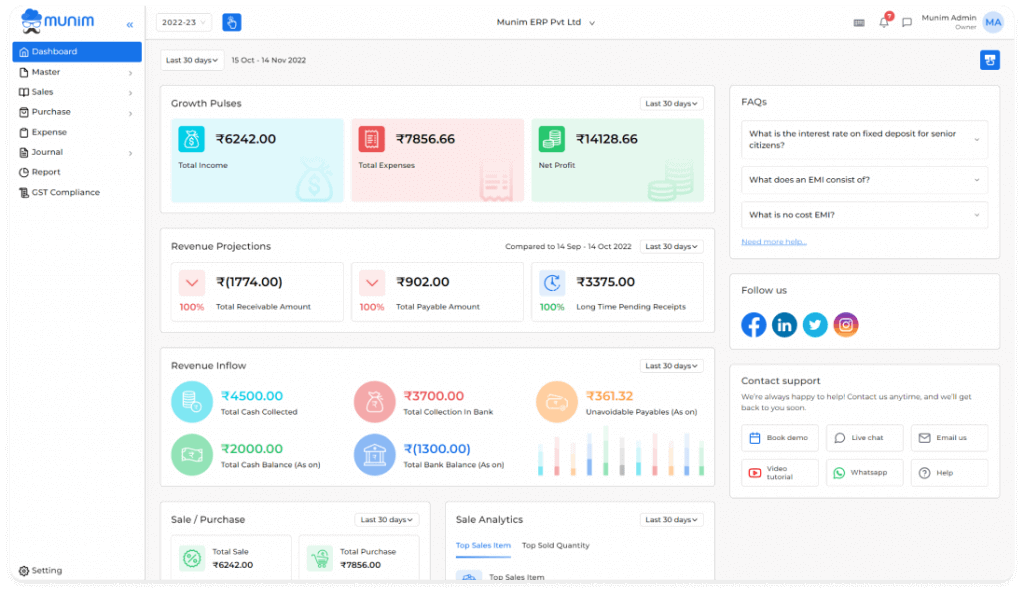 Modern Accounting Software For Small & Medium Businesses
Munim – a business accounting software that provides you with a comprehensive overview of your business finances. It allows you to track your income and expenses so that you can always stay up-to-date with the finances of your company. It also includes a set of customizable reports that give you a detailed overview of your income and expenses. This information can help you better manage your finances and keep track of your bottom line.
Features Of Munim
Due to the following features, Munim is one of the best small business accounting software in India:
Bookkeeping Capabilities
Munim can efficiently handle the day-to-day bookkeeping work of a company with a facility for updating ledger entries, automatic tax calculations, bank reconciliation, and many more.
Access To 27 Charts Of Accounts
With Munim, you can get access to 27 different charts of accounts to manage the finances of your business well. Moreover, you can divide them into sub-groups.
Manage Customer Data
With Munim you can update and manage customer data such as name, address, contact details, and PAN No, along with the preferred mode of payment and also default credit period (in days).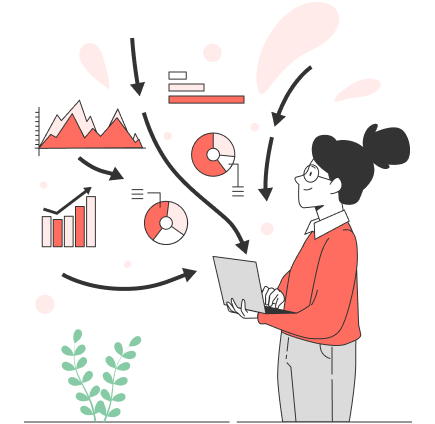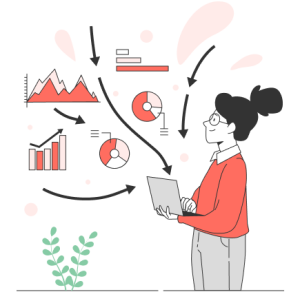 Manage Transporter Details
This feature sets Munim apart from its rivals. In Munim we have provided a feature to manage transporter details allowing you to generate e-way bills without leaving the software.
Import Opening Data
With other online accounting software for small businesses migration is a painstaking process which is not the case with Munim. You can import all your data with excel files. Available in a free version as well.
All-Encompassing Dashboard
On Munim's dashboard, you can see all the essential financial data such as total income, total expense, net profit, total sales, revenue projection, and the top-selling product.
Get unlimited access to powerful accounting software
You will get full access to all the features for a limited period.
Benefits Of Munim
The following are the benefits of cloud accounting software for small and medium-scale businesses in India:
Minimal Data Error
Manual data entry is prone to errors which creates a large impact on the image of your business. In accounting software, one can easily edit the data if it gets updated wrongly and the software adjusts relative entries.

Streamlined Process
In accounting software, you can allow your team members to assign a role and allow them to access a particular module of the software, this way you can avoid duplicate entries and tiresome rework.

Access To Real-Time Data
As opposed to manual accounting, Munim settles entry on the go. If one updates an entry in the books of accounts it automatically gets settled at the same moment thereby providing you with real-time financial data.

Data-Backed Decisions
When you have access to real-time data, you can take advantage of the same to make critical decisions for your business. Thus, now you don't have to wait till month-end or quarter-end to make urgent decisions.

Highly Secured
Munim is hosted on highly secured cloud servers making it almost impossible to breach the security and access your data. So don't hesitate to update your critical financial data on our app.

Enables Remote Working
Neither manual accounting nor conventional accounting software accessible from a single terminal could have catered to the need for remote working during COVID-19 times.
Why Choose Munim?
Choosing accounting software can take your business to the next level. Munim should be your ideal choice because we know business pain points and have endeavored to overcome them with our software.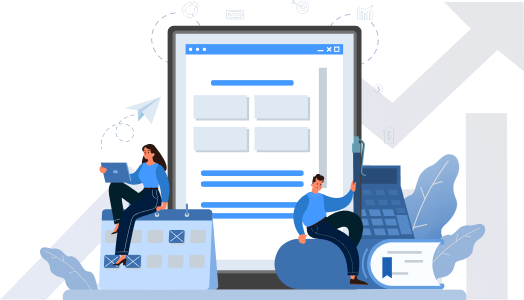 Frequently Asked Questions
Can Munim replace my accountant?
Can I import data in Munim from other accounting software? 
Is there any facility to update transporter details other than roadways? 
Is there any feature to mention the credit period for particular customers? 
Other Features
The following are the benefits of cloud accounting software for small and medium-scale businesses in India:

Keep track of all your business incomes & expenses, and ensure your finances are always in order.

Stay on top of your GST obligations with regular updates and notifications with the best accounting software.

Create, manage and send invoices to your customers in just a few clicks, and track payments received.