An Ultimate Guide To Migrating To A New Accounting Software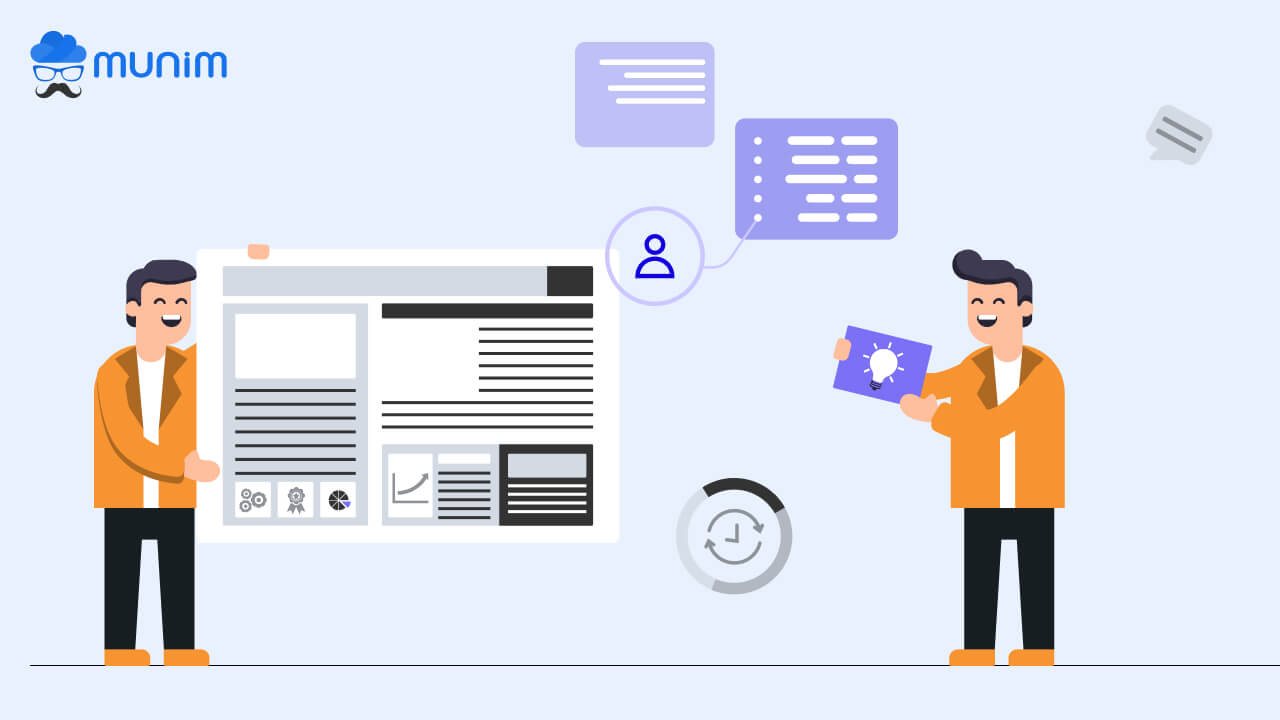 Time and again we hear from business owners that they are stuck with accounting software because they have a fear of data loss, incompatibility with their business requirements, and many others. To address your concern and offer an omnirelevent solution we have come up with this blog. Here we will discuss steps to migrating a new accounting software and some simple yet actionable tips to enable a smooth transition.
Reasons Contribute To Changing Accounting Software
There is no single reason behind switching to new accounting software. Many reasons contribute to it most of the time. Following are some possible reasons that may lead to the same:
High subscription cost
Your business has outgrown the software
Not capable of fulfilling business requirements
Lack of customer support
Things To Check Before Subscribing To An Accounting Software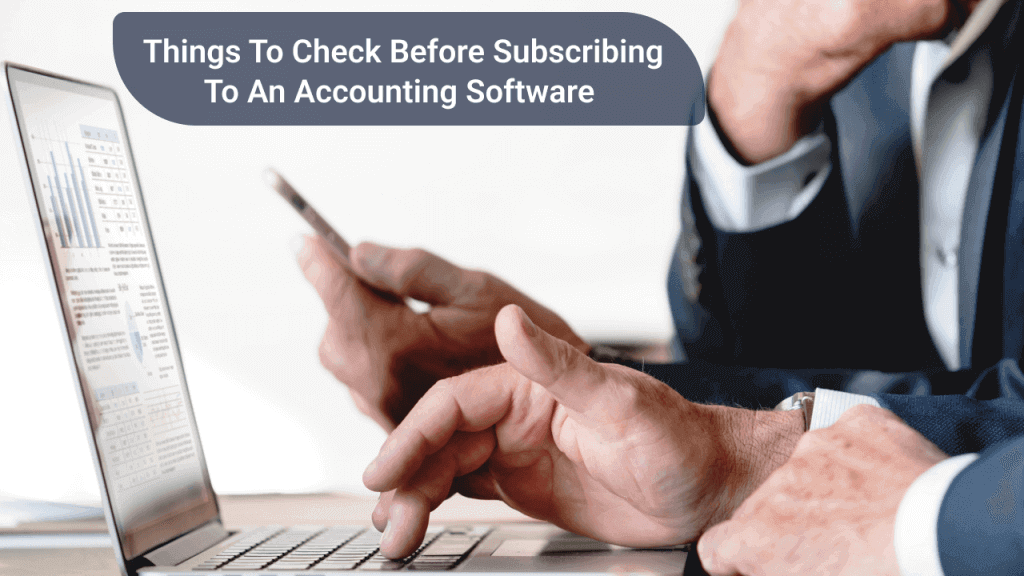 You cannot migrate your free accounting software frequently, right? So before you set the transition in motion it requires a check. The following are the things that you should look for in perfect software:
Data Security
Data security is one of the main requirements of businesses since they cannot afford to get their data publicized. If you have opted for conventional accounting software then you can skip this step because the data security threat is only with online software.
Customer Support
Once you decide on your new accounting software, check with their Customer Support team what all support they will be providing pre & after sales both.
Flexibility
Accounting software must be flexible to allow changes as per the needs of the organization. When you look for perfect software, always have foresight and try to assess the future needs of your business and select the software accordingly.
Ease Of Use
Choose accounting software with a simple UI that is user-friendly. No matter what software you choose, ensure that accountants' productivity does not get hampered. We would recommend you consider the learning curve before subscribing to paid or free software.
Step-by-step Procedure For Accounting Software Migration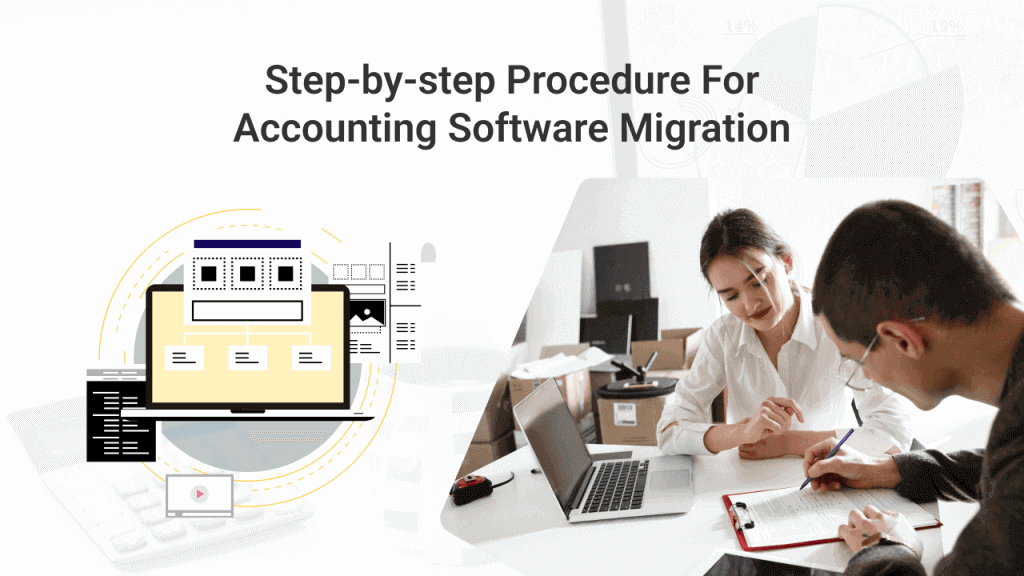 Following is the explanation of the procedure of accounting software migration in steps:
Step#1 Choose Your New Accounting Software
Your journey of transiting to a new accounting software starts with finding new software. Your selection plays an important role because the right software can slash the time it takes to comply.
If you have an accountant in your company, we would recommend you keep them updated with your decisions and seek their advice if needed. They can provide you with valuable inputs with their exposure and expertise.
Step#2 Schedule The Transition
Once you decide on your new accounting software and ensure that it fits your business then the next step is setting the cutoff date — the day when your business moves from the current software to the new one.
Setting the cutoff date keeps your team prepared to facilitate the transition. And one can take a few days to a couple of months to migrate the accounting software, depending on the complexity of your business.
Step#3 Select The Data You Want To Import
Once you are ready with the transition schedule, the next step is to filter the data you want to import into new accounting software. Following is the list of data that you must move forward:
Chart of accounts
Clients and vendors
Accounts
Invoices and bills
Inventory item records
Now, back up your data from your current software and keep a copy of the same either on cloud storage or external storage for emergencies. Check the data thoroughly and fix inaccuracies if you find any. Finally, your data is all set for migration. Note, tax authorities require you to hold the financial records of past years, so comply with this requirement and plan the migration accordingly.
Step#4 Initiate The Trial Data Importing Process
You can import data using CSV files in most software including Munim. While some software requires data to be imported in some other format, check with the software and do the needful. Once you are ready with data as specified by your software then you may proceed for trial import.
Step#5 Test The Migrated Data
Now that you have imported data for trial, test it thoroughly and ensure all functions are working as intended. You can do this by comparing charts of accounts, financial reports, and trial balances with old accounting software. If you find any errors, find the root cause of the problem and fix it.
Step#6 Proceed For Actual Migration
Now that you have tested and checked everything, it is time to process the data for actual migration and import the same into the new software. You can run both software in parallel if you require, but not necessarily.
Over To You
So this was all about the guide on software migration. We hope after reading this blog you are aware of all the nitty-gritty details of switching software. If you are looking for accounting software then you should check Munim first. It has all the features that any business requires and the best thing about it is that it's free* for all. 
Frequently Asked Questions On Accounting Software Migration
What are the factors to consider when selecting accounting software?
Ans.
The following are the factors that you must consider before buying accounting software:
Customer service reputation
System compatibility
Cost
Features offered
Reports
Accessibility
Security
What is the main risk involved in migrating accounting software?
Ans.
The main risk involved in transiting to new software is improper data migration. It may lead to sending incorrect invoices to customers, double payment to your supplier and many other issues may arise.
What is the best time to migrate accounting software?
Ans.
It is recommended that one should schedule migration at the end of either quarter or fiscal year.