Change for better ALL in one Business solution
Try Munim free for 60 days, no credit card is required
Features
Availability
Available anytime anywhere
It's online tool software, just required internet.
Unlimited items
Staff accounts
Staff members with multiple roles and limited access
2
Reports
Unlimited
Inventory
Inventory management and stock alert
Unlimited
Order creation
Unlimited
Support
Email, live chat, WhatsApp on support hours
Help docs free access
GST reports
Unlimited
Unlimited device logins
And many more….
Note: All the pricing in INR.
For each company, it charges according to the mentioned above.
Credit points are required for the below features
| | |
| --- | --- |
| Feature | Credit Point Use |
| GSTR-2A Reconciliation (Monthly/Quarterly) | 3/5 |
| e-way bill create | 1 |
| e-way bill edit | 1 |
| e-invoice create | 1 |
| e-invoice edit | 1 |
₹ 1 = 1 credit point, 12 Free credit points on each company creation.
Frequently Asked Questions
Popular help topics
Do small business require accounting software ?
Yes, we recommend small businesses purchase accounting software to help automate your finances with features like expense and payment tracking, invoicing, and remote access. Sage Accounting is easy to use and setup to immediately save time, improve cash flow, and get you paid faster.
I don't have a physical product. Can I still use Munim?
Yes. Even if you don't have a physical product, you can use Munim. You can add and manage your services using our Munim accounting software.
Is it possible to add bank details of customers or vendors?
Yes. With Munim, you can add to add bank details of customers or vendors while creating their ledger.
Can I keep the credit period while creating customers?
Yes. You can add the credit period in days while creating customers in Munim.
How many businesses I can add with Munim?
You can add any number of businesses/companies with Munim software.
Do I need to install any software?
No. Munim is 100% web-based, so all you require is an internet connection and browser.
How can I do bulk entries?
Munim has an option to upload pre-filled excels for bulk entry, which saves you from time-consuming manual entries.
Do I need multiple accounts to manage multiple businesses?
No. Only one Munim account is enough to manage any number of companies or businesses. So, you don't need multiple registrations to manage multiple businesses.
Can I access my data on mobile?
Yes. You can access your account and data on any device at any location with your Munim credentials.
Does the Munim support GST?
Yes. Munim is an online GST accounting software. All the modules in our systems help you keep your business GST compliant.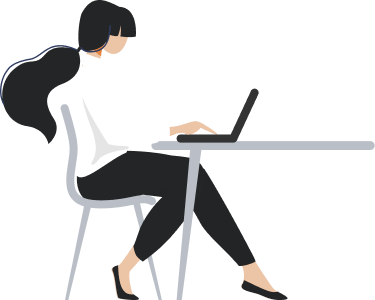 Start with 60-day FREE trial!
You will get full access to with all the features for 60 days.