How Munim Accounting Software Empowers Chartered Accountants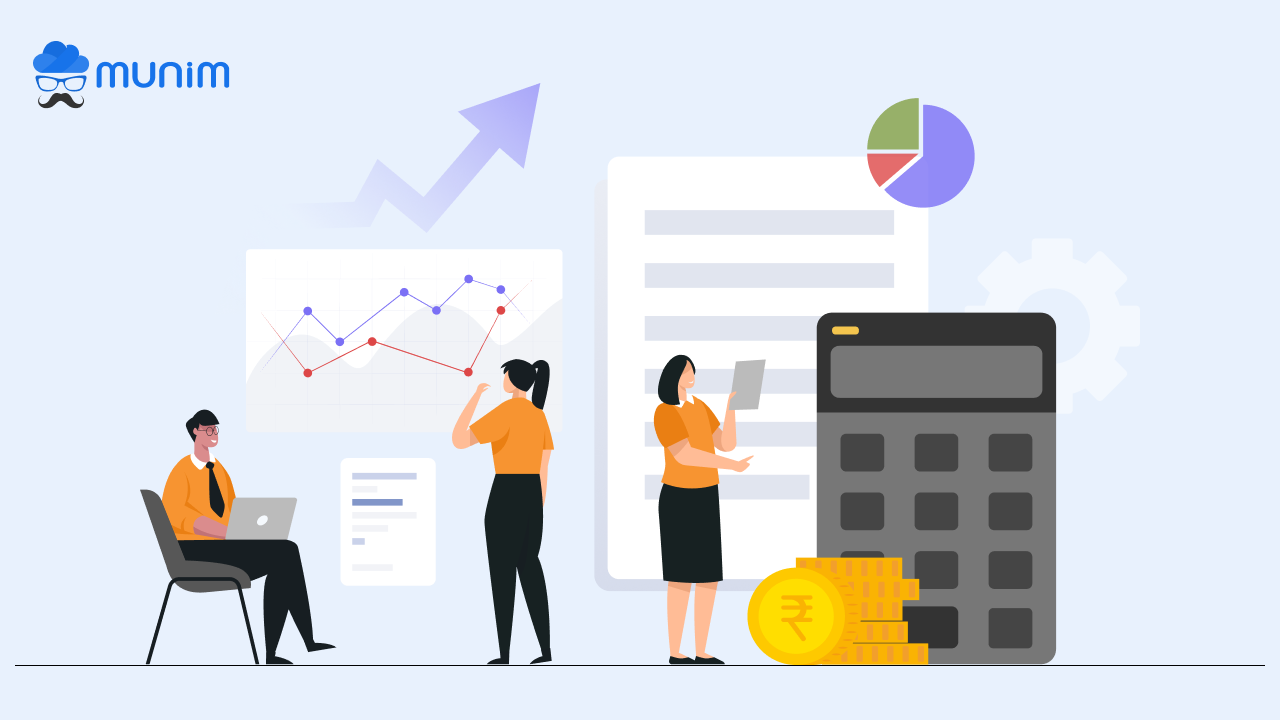 With technology advancements in every sector, Online Accounting Software to is booming in the finance industry. Before the accounting software came in, CAs and other financial professionals managed their records and accounts manually, leading to delays or errors. They had to maintain huge files, revisit papers for every detail, calculate taxes and numbers manually, and much more. This led to a heavy workload and paperwork.
Today, there are a wide array of billing and accounting applications in the market, but Munim accounting software leads this technological race serving businesses of all sizes. It is a one-stop online accounting solution that automates all the billing and accounting tasks.
Let's quickly scroll down to check to read the blog.
What Does Munim Accounting Software Offer?
Accounting Software
Munim Accounting Software helps the CAs to automate their accounting tasks and effortlessly track the financial system. Through Munim CAs can get access to essential financial data like income, total expense, net profit, total sales, revenue projection, and much more on a single platform. CAs across the business world consider Munim to be one of the best accounting software as it saves their time and minimizes manual efforts.
Billing and Invoicing
Munim's Billing and Invoicing helps CAs, finance officials, and businesses to fasten the process of creating invoices through the shortcut keys it offers. Through the filters, you can filter the invoices based on categories like canceled payments, payments done, and partial payments. Also, this online accounting software helps businesses generate multiple invoices simultaneously without the need to update the entries manually.
GST Accounting Software
Munim helps businesses to stay compliant with GST regulations by calculating tax liabilities automatically. Munim accounting software generates GST e-way bills with just a click. Also, Munim can be easily integrated with the GST portal ensuring effortless filing of GSTR.
Bookkeeping Software
Munim is an online Bookkeeping Software that allows businesses to securely maintain all the records, import data seamlessly from other software and track essential parameters of financial health. This Online accounting software is a complete suite of record maintenance to retrieve the load of CAs and finance professionals.
E-invoicing Software
Munim's e-invoicing solution can be smoothly integrated with the Invoice Registration Portal and thus it eliminates the need to sign-up to the portal thus saving time. It also allows single-click e-invoice cancellation, creation, and generating e-way bills with e-invoices.
E-way Billing Software
Munim's e-way billing solution allows you to generate e-way bills with invoices. This online accounting software helps the CAs to stay updated with GST regulations and seamlessly file GST returns of their clients with just a click.
Inventory Management Software
Munim brings the best stock management solution that automates inventory workflows and aids in keeping track of low stocks. It automatically generates alerts for low stocks preventing stock-outs.
Report Management Software
Munim generates multiple reports like profit & loss reports, stock summary reports, balance sheet reports, purchase summary reports, sales summary reports, vendor outstanding reports, stock valuation reports, and customer outstanding reports. This report management system helps to keep track of your financial health and make smarter decisions. Munim accounting software allows finance professionals to select custom timelines and download reports based on their requirements.
User Access Control
Munim not only offers the best accounting software but also, brings heightened security to your financial records with user access control. Access rights to financial records can be decided based on roles and responsibilities.
How Does Munim Accounting Software Empower CAs?
Reduced Manual Workload
With Munim, CAs can automate their tasks and don't have to heavily rely on manual accounting for calculations, reconciliations, bookkeeping, etc. This reduces risks associated with manual workload and minimizes the use of resources.
Reduced Errors
Mistakes in financial records can lead to inaccurate financial reporting, incorrect tax calculations, and compliance issues. These errors can have severe consequences for businesses and may result in financial penalties or legal repercussions. As Manual bookkeeping and accounting are prone to human errors, Munim accounting software comes as a rescue to all these concerns.
Efficiency & Productivity
Munim accounting software eliminates the risks associated with repetitive tasks ensuring the CAs invest more time in value-added activities such as financial analysis, strategic planning, and client advisory services.
Real-time access to Financial Data
Munim is considered to be the best accounting software for CAs where they can access all the financial records in real-time and generate accurate reports. This helps them in smarter decision-making.
Meet Compliance Requirements
Munim incorporates the latest accounting standards and tax regulations, simplifying compliance for CAs. If done manually, CAs would need to keep up with changing rules and ensure adherence, increasing the risk of non-compliance and associated penalties.
Enhanced Security
Munim Accounting software offers robust security measures, including data encryption, access controls, and regular backups. This helps CAs would need to protect their confidential financial information and keep hackers at bay.
Paperless Office
Munim accounting software helps the CAs to get rid of heavy paperwork and digitize the accounting process. CAs can be stress-free now with no need to maintain heavy documentation and browse through the entire files for information.
3600 View of Financial Health
Munim has a wide array of features and generates detailed financial reports that help businesses and CA's to analyze the complete information in a single go. This online accounting software is the most accessible gateway for CAs to make informed financial decisions.
Multi-Purpose Application
Munim accounting software is an all-in-one solution embedded with a bunch of features. It eliminates the need to hop from one platform to another to satisfy accounting needs. This is a complete suite of accounting and billing solutions.
Let's Wrap Up!
Hopefully, you have understood why as a Chartered Accountant you need assistance from Munim accounting software. If you haven't explored Munim yet, go ahead with a 14-day free trial.
To leverage the benefits of Munim, sign-up now for just 1999/ year. 
FAQs
Why Munim is called a One-stop Shop for Accounting and billing?
Munim accounting software serves all the accounting and billing requirements in a single place thus eliminating the need to maintain multiple applications. It offers solutions for accounting, e-invoicing, GSTR filing, E-way billing, inventory management, bookkeeping, and much more. Thus it is a one-stop solution for accounting and billing.
What should be the checklist while selecting Online Accounting Software?
While you select Online accounting software make sure the software resolves your accounting concerns. The software should be easy to use, cost-effective, multi-purpose, and reliable. Check out if it uses security protocols like encryption methods, user access control, etc to protect your confidential financial information.