Quick Start Guide For Subway Franchise in India: Pro Tips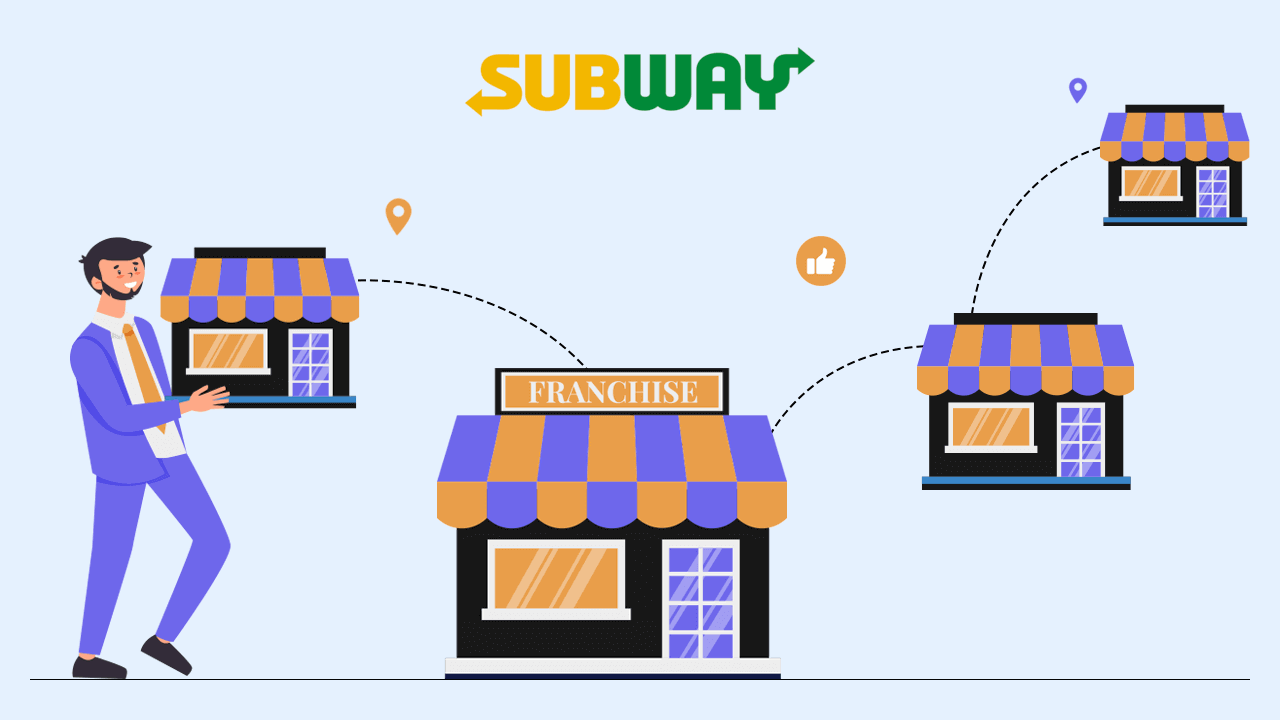 Aspiring entrepreneurs often look to the world's largest fast-food chains as models for success. But what if you're looking to break into the Indian market? If you're looking to get into the Subway franchise in India, then you're in luck.
This guide will tell you everything you need to know about the process, from what's required to how much it costs. So read on, and learn how to join the Subway family!
Let's Start with the Definition!
Subway Franchisees are business owners who have invested in a Subway restaurant. They are granted the right to use the Subway name and trademark, and they receive training and support from Subway.
Subway Franchisees must adhere to strict standards for food quality, cleanliness, and customer service. In return, they enjoy the benefits of a well-known brand and the support of a large company.
As a Subway Franchisee in India, you will be responsible for all aspects of your restaurant's operations, from menu development to marketing and employee training. You will also be required to follow the guidelines and standards set by Subway International Corporation.
How to get a Subway Franchise in India?
There are a few different ways to get a Subway franchise in India. One way is to find an existing Subway franchise owner who is looking to expand or sell their business. Another way is to go through the Subway corporate office in India or contact Subway Franchise sales to own a new franchise.
The Subway corporate office will help you through the process of becoming a Subway franchisee, including reviewing your business proposal and helping you with the financing options available.
It's important to note that not everyone will be approved to become a Subway franchisee, so it's important to have a well-thought-out business plan in order to increase your chances of being approved.
Steps to Get Started!
Step 1: Fill out the online application form on the Subway website and submit it along with all required documentation.
Once you've submitted your application, you'll need to wait for a response from the Subway team. They will review your application and, if approved, will contact you for an interview.
Step 2: Complete an interview with a member of the Subway team.
Step 3: If your application is approved, you will be sent a franchise agreement to sign and return along with a deposit. Review and sign the Franchise Agreement.
Step 4: After you sign an agreement with Subway to open a franchise in India, you will need to set up a company in India.
Step 5: Participate in our comprehensive training program, which will provide you with all the tools you need to run a successful Subway restaurant.
Step 6: Complete the pre-opening checklist. This checklist includes tasks such as finalizing your store design, ordering and stocking supplies, hiring staff, and training employees.
Step 7: Schedule an opening date and get ready to welcome hungry guests! During the first few months of operation, the Subway team will continue to provide support and assistance as needed.
Franchisees benefit from the strength of the Subway brand name, as well as from training and support from the company. They also have access to supplies and ingredients at discounted rates. In exchange, they are expected to uphold high standards for customer service and food quality.
What is the Subway Franchise Cost in India?
The Subway Franchise Cost in India is Rs. 50-90 lakhs. This price includes the initial franchise fee (INR 6,50,000), and the cost of setting up the franchise and getting your restaurant up and running. It also includes training for you and your staff, as well as a 6-month supply of food and marketing materials. Check the capital requirements for a Subway Franchise.
Benefits of Subway Franchise in India
Subway is a great choice for business owners in India because it offers a product that is both affordable and healthy.
With an ever-growing population and rising incomes, there is a large demand for affordable food options that are also healthy. Subway meets both of these criteria, and its convenience makes it a popular choice for busy Indians.
Additionally, the Subway brand is well-known and trusted in India, which further contributes to its success. As a Subway franchisee, you'll have the support of an established company behind you as you get your business up and running.
Why one should have a Subway Franchise in India?
Subway is a big brand in India with a lot of potential for growth. If you're looking to get into the sandwich business, this is definitely a great option.
The investment required to start a Subway Franchise in India is relatively low compared to other franchises, so it's a good option for those who are starting out with a limited budget.
There is a lot of training and support available from Subway, which makes it easy for new owners to get up and running quickly.
The Indian market for sandwiches is growing rapidly, so there's plenty of opportunity for success if you're willing to put in the hard work.
Things to consider before opening a Subway Franchise in India
Subway is a great franchise to own, but there are a few things to keep in mind before applying.
The Subway brand is well-recognized and highly respected in India, so the company is only looking for people with significant business experience.
Be aware that the Subway business model may not be as profitable in India as it is in other countries. This is because Indian consumers are not as accustomed to paying high prices for sandwiches.
You'll need to make sure that your store offers something unique and appealing to customers if you want to be successful.
The Subway Franchise price in India is significantly higher than in other countries.
The market for healthy eating is still growing in India, so there is potential for success if you can tap into that trend.
The competition for Subway franchises in India is fierce, so make sure you have a strong business plan and are ready to work hard!
How much money can you make from Subway Franchise in India?
Subway Franchise in India can be a very lucrative business. There are a number of factors that will influence how much money you can make from your Subway Franchise in India, including the location of your franchise and the size of your store. However, if you run your Subway Franchise well, you should be able to make a healthy profit.
Generally, Subway franchisees make a percentage of the sales from their store. So, the more your store sells, the more money you make.
Conclusion
Subway is a well-known and loved brand all over the world. If you are interested in owning your own business, a Subway Franchise could be a great option for you. We have outlined the process of how to get a Subway Franchise in India, as well as what you can expect from owning one. Owning a Subway Franchise comes with many benefits, such as support from the head office, training, and more.
Make sure to do your research before applying for a franchise, and if you have any questions, feel free to reach out to us. We would be happy to help! Have you ever considered owning your own Subway Franchise?
FAQs
Ques. What is Subway franchise profit margin in India?
Ans. Subway's profit margins can vary, but they are generally competitive in the fast-food industry due to its established brand and customer demand.
Ques. Is Subway franchise profitable in India?
Ans. Yes, Subway franchises can be profitable in India, provided you choose the right location, maintain quality standards, and manage your business effectively.
Ques. How to open Subway franchise in India online?
Ans. To open a Subway franchise in India, you can start by visiting Subway's official website, express your interest in franchising, and follow their online application and guidance.
Ques. What are the requirements to open a Subway franchise in India?
Ans. The requirements to open a Subway franchise in India typically include meeting their financial criteria, finding a suitable location, adhering to Subway's quality and operational standards, and completing their application process.