Top 11 Reasons to Choose Munim for Complete Accounting Software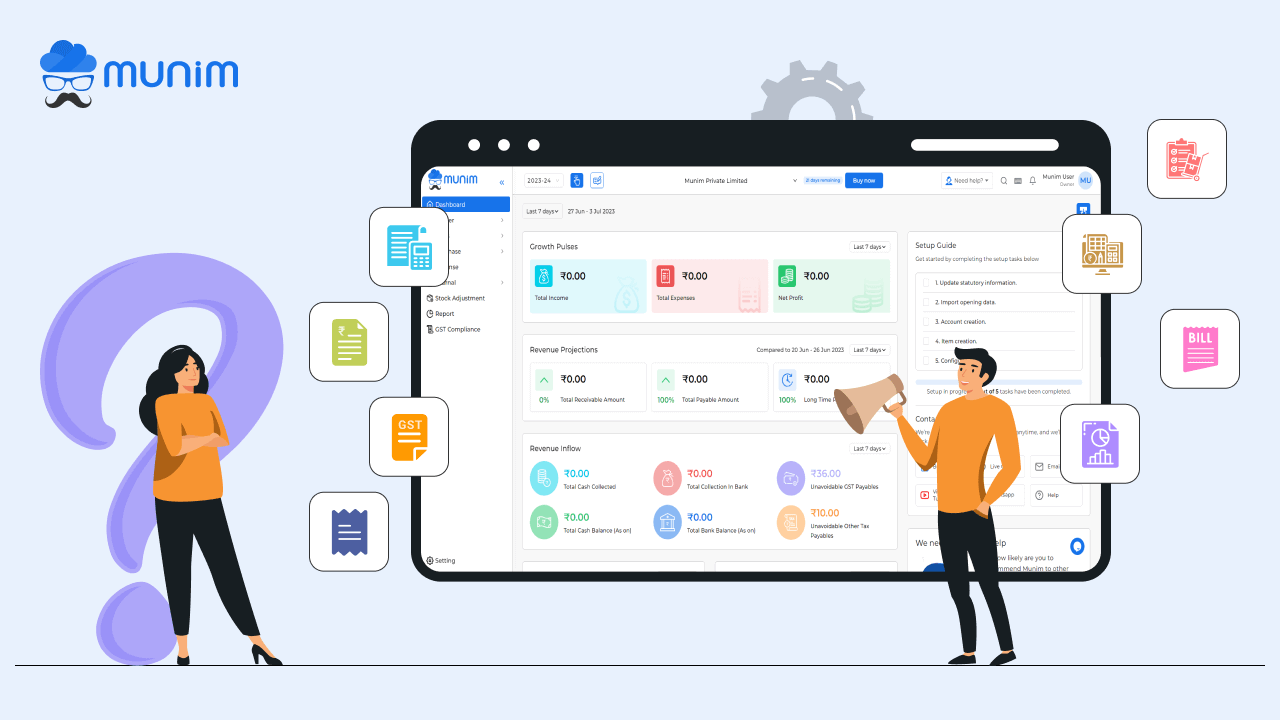 Munim is online accounting software designed to streamline and automate financial processes within a business or organization. It provides tools and functionalities to facilitate tasks such as tracking expenses, managing invoices, generating financial reports, and handling billing operations. This software plays a crucial role in simplifying financial management, enhancing accuracy, and improving overall efficiency.
One of the primary functions of Munim is to record and track financial transactions. It is the best online accounting software in India that allows users to input and organize various types of financial data, such as sales, purchases, payments, and receipts. By automating these processes, Munim minimizes the chances of errors and provides a reliable audit trail. Munim accounting is considered to be the leading platform in India and is rated 5 stars by Google, and Good Firms, 4.8 by Software Suggest, and 4.4 by Trust Pilot.
Let's quickly scroll down to check why clients across verticals trust Munim accounting.
Top 11 Reasons to Choose Munim for Accounting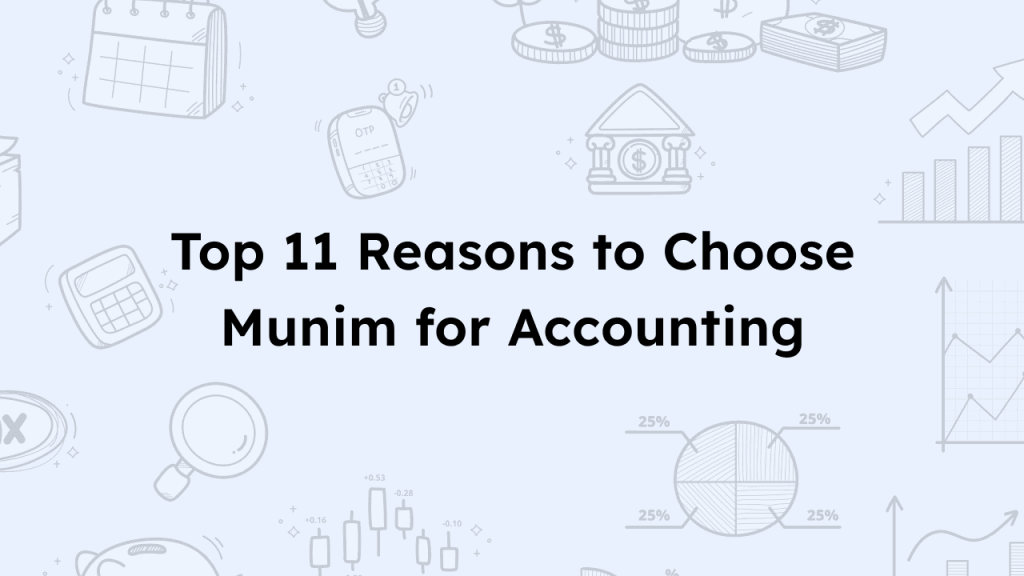 In the modern era, efficient and accurate accounting plays a crucial role in the success of businesses. With numerous accounting software options available in the market, it's essential to choose a solution that caters to your specific requirements. Munim, advanced accounting software, stands out as a reliable and comprehensive choice.
Let's dive in to explore the USPs of Munim online accounting software:
Comprehensive Financial Management
Munim accounting covers all aspects of financial management, including general ledger, accounts payable, accounts receivable, inventory management, fixed assets, cash management, tax compliance, and more. It provides a centralized platform to streamline all your financial processes.
Automation and Workflow Efficiency
Munim online accounting software eliminates manual intervention thus reducing errors and delays. By automating repetitive and time-consuming tasks, Munim accounting saves valuable time for your accounting team. It reduces manual errors and improves overall workflow efficiency, allowing your team to focus on more strategic activities.
Tax Compliance
Manually keeping up with tax regulations can be challenging. Munim is the best online accounting software in India that simplifies GST tax compliance. It automatically calculates tax liabilities, generates tax reports, and keeps you updated with tax law changes. It helps you to pay accurate taxes eliminating penalties.
Scalability
Business expansions lead to growing requirements. Munim accounting adapts to the growth of your business seamlessly. It caters to the needs of small startups as well as large enterprises, allowing you to expand your operations without worrying about changing accounting systems.
Industry Specific Features
Munim online accounting software is designed in a way that caters to the needs of a wide array of industries. Manufacturing, retail, healthcare, pharma, supply chain, e-commerce, education, professional service, Information Technology, non-profit organizations, and much more can leverage the benefits of Munim accounting. It not only resolves tax compliance concerns but also offers accounting, billing, e-invoicing GST, and inventory management at a single click.
Remote Access and Collaboration
With the rise of remote work, it becomes crucial for online accounting software to support remote collaboration. Munim allows secure access to your accounting data from anywhere and at any time. It also supports collaboration, enabling multiple users to work on the same data simultaneously. This gives a flexible collaborative approach to the system.
Real-Time Data and Reporting
Access to real-time financial data is crucial for making informed business decisions. Munim accounting provides up-to-date reports and analytics, giving you valuable insights into your company's financial health.
Easy Data Migration
Switching to a new accounting system can be daunting, but Munim online accounting software simplifies the process by providing easy data migration tools and support. You can smoothly transition your existing financial data to Munim without disruptions. It offers the provision to directly import files or Excel sheets into the system without the need to make manual entries.
Streamlined Purchase and Sales Management
With Munim accounting, you can efficiently manage your purchase and sales processes. It automates tasks such as creating purchase orders, tracking inventory, generating sales invoices, and managing customer payments. It eliminates errors and delays, streamlining sales management at your fingertips.
Audit Trail and Compliance
Munim online accounting software maintains a detailed audit trail, tracking all financial transactions and changes made within the system. This feature helps you meet compliance requirements and facilitates auditing processes.
Continuous Updates and Improvements
Munim online accounting software is committed to delivering regular updates and improvements to enhance user experience and address emerging accounting needs. With Munim, you can stay ahead with the latest features and technological advancements. Its experts work round the clock to deliver the latest functionalities and innovate advancements in the software.
Let's Wrap Up
Choosing the right online accounting software is crucial for the financial management and growth of your business. Munim stands out as a top choice offering scalability, comprehensive financial management, automation, real-time data, security, and much more. With its extensive features and benefits, Munim provides a reliable and efficient accounting solution that can cater to businesses of all sizes and industries.
If you are looking for reliable online accounting software, Munim can be the best choice for you. It is the best accounting software in India that offers a wide array of features at just 1999/ year. 
Hurry up! Register to Munim now at just 1999/ year and manage your accounts with a single click. 
Frequently asked questions for Complete Accounting Software
What are the Features of Munim Online Accounting Software?
Munim online accounting software offers a wide array of features. Check out the list below.
Accounting Software
Invoicing Software
GST Accounting Software
E-invoicing Software
Inventory Management Software
Report Management Software
User Access Control
Can I get a trial for Munim before registering?
Yes, Munim offers a 14-day free trial to help you understand how it can benefit your business and 4x your profit. This trial will also give you a clear idea of its working.
Does Munim offer Data security?
Munim is highly secure online accounting software that protects your confidential financial data from thefts and data breaches. It leverages encryption, user access control, and other security protocols to ensure heightened safety of your records.