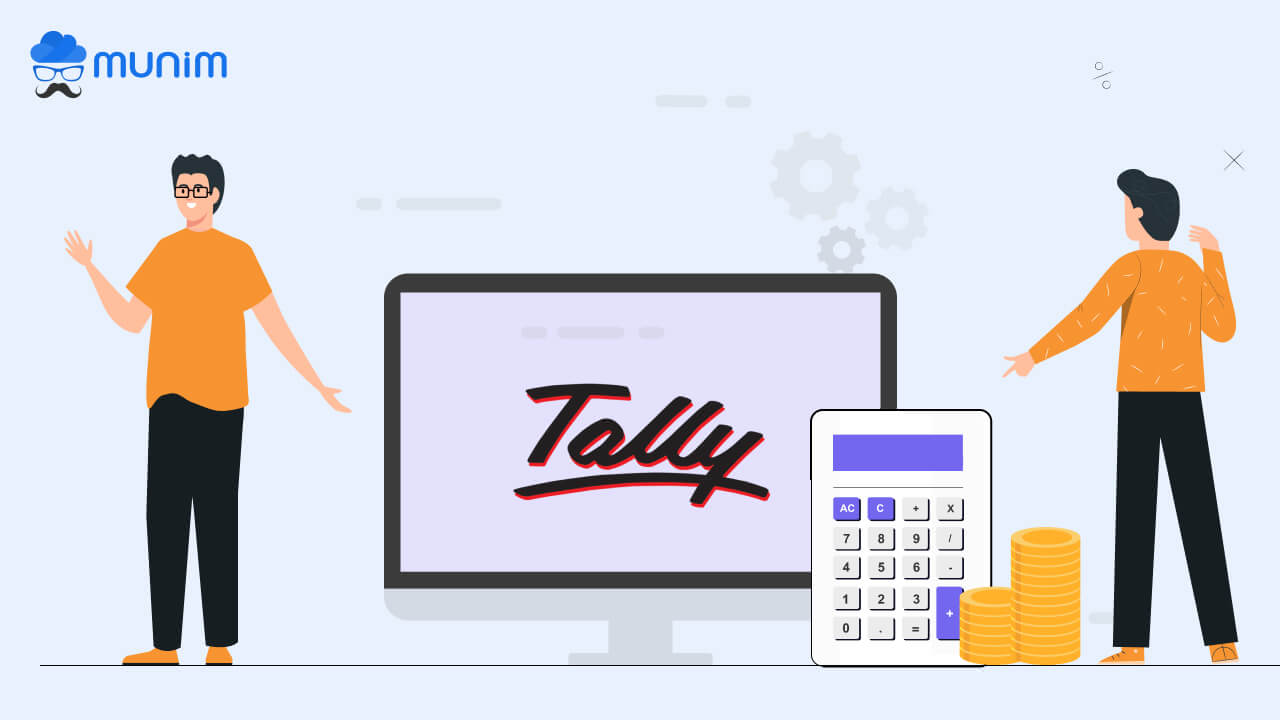 Are you looking for an alternative to Tally accounting software? Congratulations, you have landed on the right page. Since Tally is costly, it's good to have a cheaper alternative because it will further reduce the overhead costs of your company. Today, we will offer you Munim – the best alternative to Tally, and is completely free* to use (offer valid for a limited period). So, let's understand how it can successfully replace Tally and what all features it has to offer. 
Why Munim Is The Best Alternative To Tally
Following are the features of Munim that make it the best Tally alternative:
GST Accounting
Munim being GST accounting software makes it easy for you to stay compliant with the latest rules & regulations of the Government of India pertaining to indirect taxes. It automatically calculates your GST liability based on the sales and purchases you made. And the best part is, you need not to be an accounting geek, all you should know is basic accounting principles.
Customizable Invoice & E-Invoice
Whether you want to create GST-compliant invoices or non-GST invoices Munim can cater to your every business requirement. Here, you can customize your invoice as per your requirement and also can update your company logo.
Bulk Invoice Generation
We are aware of the fact that most of the time you run short of time and you need a solution that takes care of billing against less investment of time. With Munim you get the facility of generating invoices in bulk. You don't have to manually update data, just importing an excel sheet would be enough and our software will process it automatically. Once it gets processed successfully, invoices will be ready to download.
Generate Delivery Challans
Especially in India, there is a widespread practice of sending delivery challan with supplies instead of the invoice because there is a lack of surety that it will convert into sales or not. Hence, to record the movement of goods delivery challan is issued. Munim is one of a few online billing software that allows you to generate challans.
Attach Files To Invoices
Suppose you are providing goods to a client at special pricing under contractual terms then you should attach a copy of the contract for your and your colleagues' reference so that it gets settled in your books of accounts properly. This is how you can use the attachment feature of Munim.
E-Way Bill Generation
The e-Way bill is a document that facilitates the unrestricted transport of goods worth more than 50,000 INR. Generally, one needs to login into the E-Way bill portal to generate an E-way bill. With Munim, that is not the case. You can generate an E-Way bill along with your invoice from a single window in just one click.
Inventory Management
Munim is not just an accounting or billing software, it is a complete business solution itself and the inventory management feature is a testimony of the same. Starting from placing purchase orders to maintaining procurement expenses to managing goods in the warehouse, everything can be done in Munim.
Moreover, you also get various inventory reports which give you all the necessary information you need to manage inventory. Following are the reports you get with Munim:
Stock Summary
Stock Aging Report
Item Sales Summary
Low Stock Summary
Item Report Customers Wise
Item Report Vendors Wise
Cess Accounting
Cess is an additional tax liability imposed on particular products/services by either state or central government to collect funds for a specific purpose. If you are dealing with such products/services then you should migrate to Munim because it facilitates Cess accounting.
Hot Keys
As they say 'time is money' in the context of business which signifies the importance of time. We have come up with a solution that facilitates the compliance process in a much faster and more efficient way, all thanks to hotkeys aka shortcut keys. By just tapping a couple of keys you can access the desired feature. This is one of the most prominent features that makes Munim an alternative to Tally.
Role-based User Access
If your team consists of executives having different roles and are required to access the accounting software then you don't have to share credentials with each other. Because, we have got you covered. With this feature you can provide them access to software separately. By just simply adding a new user from 'settings' (in Munim) and authorizing their level of access. View only, create entries, edit & delete entries, and more layers are provided to suit various roles of an accounting team.
Intelligent Dashboard
Many users ignore the importance of the dashboard but we want you to know that it is of great importance, especially for an entrepreneur. Because when they are occupied with something else or traveling; by just glancing at the dashboard they will know the latest business updates with data.
Smart Reports
Munim has a feature called 'Reporting' which generates reports with real-time data. These reports can help you understand various aspects of your business anytime, any day. Normally, companies draft reports either monthly or quarterly but with Munim you can access the latest reports whenever you want. These data-rich reports facilitate quick and informed decision-making.
Following are the reports you will get with Munim:
Sales Summary
Purchase Summary
Expense Summary
Unbill Challan
Balance Sheet
Profit and Loss Report
Ledger Report
Invoice Wise
Customer Wise
Customer and Invoice Wise
Customer Outstanding
Invoice Wise
Customer Wise
Customer and Invoice Wise
Customer Outstanding
Stock Summary
Stock Aging Report
Item Sales Summary
Low Stock Summary
Item Report Customers Wise
Item Report Vendors Wise
Batch Wise Stock
TDS Report
TCS Report
Over To You
So due to these features, Munim is the best alternative to Tally. Hope after reading this blog you will give it a try to Munim and experience its simplicity. And the best part is that Munim is absolutely free* for all. For more information, you can contact us anytime. Moreover, we will help you set up your account and import data from any other software.