We Are Rated ⭐ 4.8/5 based on 500+ combined review and ratings
Simplified Financial Management at Your Fingertips!
Experience efficiency and accuracy while we manage your finances. Monitor your financial health to ensure
smart decision making. We deliver a complete package of accounting and billing in just a click.
Our Online accounting software manages all your financial requirements, from bookkeeping and invoicing to e-way billing.
It also manages your inventory to control your stock levels. It offers a complete suite of financial systems that serves all your needs.
What's More in the List?
We Deliver a Horizon of Features to Our Clients!
Financial Accounting
Keep track of your in-flows and out-flows of funds with Munim seamlessly. You are provided with 27 different accounting charts to manage business funds.

Invoicing & Billing
Generate customizable invoices, delivery challans, and quotations with a single click. It also streamlines the billing process, accounts receivable, accounts paid, and contributes to a healthy financial forecast.

GST Compliance
Stay Tax compliant and avoid tax overdue with GST accounting software. It seamlessly integrates with the GST portal so that you pay GST bills, and generate e-invoices and e-way bills.

E-invoicing
Munim can be integrated easily with the invoice registration portal. Generate e-way bills online simultaneously with digital invoices on a single click.

Inventory Management
When you have Munim you don't have to purchase separate software for inventory management. You can manage your inventory batch-wise, with serial no., and many other parameters.

User Access Control
Munim offers privacy to the financial data by allowing access to the employees based on their roles. It ensures controlled access to the modules through authentication strategies.
Why Munim Stands Out in the Market?
Munim is leading the edge over competition with its USPs

Automation and Workflow Efficiency
Munim automates repetitive and time-consuming tasks helping your team to focus on more strategic tasks.

One-Stop Accounting Solution
Munim eliminates the need to hop from one platform to another and serves as a single solution for all accounting concerns.

Industry
Compatible
Munim is designed in a way that it serves the requirements of a wide array of industries and streamlines their financial operations.

Data
Migration
Munim eases data migration from different software into the system by directly importing files eliminating the need to make manual entries.

Remote Collaboration
Munim allows users to access financial records and collaborate over work from anywhere and at any time.

Single Click
Solution
Munim eliminates the need to go through tedious processes delivering all the accounting and billing requirements at a single click.

Paperless Accounting & Billing
Munim is a digital accounting and billing software that eliminates the paperwork and the need to maintain heavy files.

3600 View of Financial Health
Munim offers a complete view of your financial health through a variety of reports and analytics enabling smarter decision-making.
Challenges Munim Accounting and Billing Software Solves
A Modern Accounting Software That Solves all Your Accounting & Billing Concerns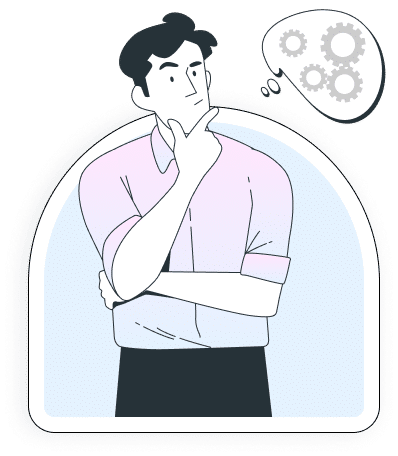 Accuracy
Munim boosts the accuracy of financial statements by eliminating duplicate entries, misplaced data, and incorrect formulas.
Transparency
Munim offers a single source of truth by ensuring visibility throughout the system to the concerned authorities.
Audit Trail
Munim facilitates seamless auditing by maintaining a detailed audit trail, tracking all financial transactions and changes made in the system.
Intuitive Interface
Unlike most financial systems, Munim is an easy-to-use platform that simplifies accounting and billing for users.
Start Using Our Accounting
Software Now!
Maximize your productivity with our smart accounting software
One Click E-Invoice
One Click e-way Bill
HSN & SAC Code Wise Reports
GSTR2A Reconciliation
TDS & TCS Return Reports
Not Required Challan Book
Your Data Security is Our Priority!

Multi-Login Authentication
Secure your data with multi-login attempts like OTP, Gmail, SMS, and much more.

Encryption Protocols
We protect your data with our heightened encryption protocols to keep hackers away.

Multi-layer Security Protocols
Our Munim business accounting software is integrated with multiple layers of security to avoid security breaches.
Pricing Plan
₹1999₹999/ yearly
( ₹85 Only per month )
Complete Business Solution
• 14 Days free trial
• Free 200 credits provided (expire on 31-March-2024)
• 1 Admin + 2 Users

Happy Customers
We Measure Our Success with Your Smile!

Nirav Patel
Munim User

Munim a cloud-based accounting software that is popular among small businesses and freelancers. It offers features like bank reconciliation, invoicing, and expense tracking. Xero also integrates with a large number of third-party apps, making it a versatile option for businesses

Bhavesh Gohil
Munim User

This software has already saved many many hours reconciling our accounts, having previously done this manually for our business. 5 STARS!

Nuraveda Care
Business Owner

I'm very much impress with this software, very light and easy to use, even fresher can use this, best part is that if get minor to minor issue u will get prompt response, Naryan alwz theier to help you. I will recommend this app.
Nainesh Acharya
Consultant – 20 years exp.

We used Tally to maintain our accounts for the past 15 years, and we were looking to adopt new technologies to manage our accounts. Finally, in 2022, we switched to Munim. Since Munim is cloud-based, the financial dashboards are updated on a real-time basis, which helps us in making faster decisions.

Pragati Solar
Business Owner

I have used this application and its really good compare to other product and also Mr.Manish and NArayana help always to understand the application .really appriciated both of them. they have available always whenever i required help. they came online and share the screen and try to resolve the issue immidiatly
CA Rahul Mistry
Practicing Chartered accountant

Wonderful software. Have been using their services for the last few days and it is extremely professional and hassle-free! Thank you. Keep up your good work.
Reviews & Ratings
Explore the latest market news, useful resources for business, and Munim updates.
Exciting Stats for You!
4000+
Customers On-boarded
3000+
Companies Registered
1L+ Invoices/Per month
Invoices Created
Get Your Queries Answered Here!
Does the Munim support GST?
How can I change my Account E-mail/Mobile number?
Can I manage GST details for my products or services in Munim?
I don't have a physical product. Can I still use Munim?
Is it possible to add bank details of customers or vendors?
Can I keep the credit period while creating customers?
How Many Businesses/Companies Can I Add with Munim Software?
How can I do bulk entries?
Do I need multiple accounts to manage multiple businesses?
Can I access my data on mobile?