Here you are adding your Direct Expenses ledger to Munim.
After doing this, you are able to manage your direct expenses.
Create Direct Expenses Ledger:
Go to the Ledger module in the left sidebar.
Click on the Create ledger button or press Alt+N key
Select Direct Expenses ledger on Under group ledger drop down list.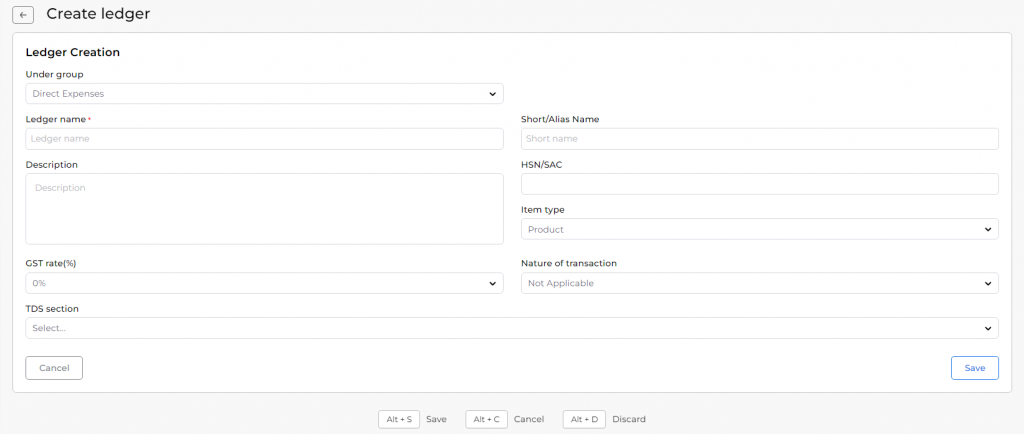 Field Information for Direct Expenses ledger:
| | | |
| --- | --- | --- |
| Field | Description | Note |
| Under group | Here select the Direct Expenses ledger. | |
| Ledger name | Here write your ledger name. | Mandatory field |
| Short name | Here write your ledger short name. | |
| Description | Here write your ledger description. | |
| HSN/SAC | Here write HSN/SAC code for your ledger. | |
| GST Rate (%) | Here select GST Rate for your ledger. | |
| Nature of transaction | Here select the Nature of transaction for your ledger. | |
| Taxability | Here select Taxability for your ledger. | |
| TDS section | Here select TDS rules for your ledger. | |
| TDS (%) | In this field, automatic data(TDS %) arrive against your select the TDS section rule. | |
| TDS threshold limit | In this field, automatic data(TDS threshold limit) arrive against your select the TDS section rule. | |